CNC Onsite Programming, Support and Training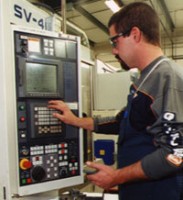 Wagner and Associates serves the Greater Kalamazoo region with Computer Numerical Control programming support. We assist in generating custom programming for your CNC systems, including more complex programming including subroutines and external tie-ins.
Let us help your staff. As we assist in programming, we train your staff in the techniques, leading to a win-win for all. If your company is in Southwest Michigan and you would like to explore the opportunity of working together, give us a call today at 269-532-7878 or email jwagner@wagner-asssoc.com.